Instincts in the face of danger: Be careful out there, boys.
As a gay man, I've been told for many years to be aware of my surroundings and the potential for danger. My mother, my sister, friends, mentors, each have said in their own way, whether of physical violence, sexually transmitted diseases, political opposition, hate, in its many forms, to BE CAREFUL. In the face of actual danger, though, it's a fascinating thing to watch our instincts at play. I had a couple things happen in the past week that showed me a few things about myself.
I recently watched the film Force Majeure, about a loving family (Dad, Mom, two kids), who are on a ski trip. The turning point in the film that makes for the remainder of the conflict is when during a lunch break, an avalanche in the distance comes crashing toward the ski lodge. Seems harmless and beautiful at first, then as the sound grows louder and there is snow everywhere, people begin to panic. As the mother tries gathering her kids to get them to safety, Dad grabs his cell phone and bails. The snow begins to clear, and everyone realizes they are safe. Dad comes back, and pretends nothing happened. Then the fun and drama of the story arc (at times brilliant commentary, and at other times very heavy-handed) begins.
A couple days ago at the Midnight Sun, I watched my best friend and coworker march up to a customer to ask him to leave. This customer has come in before – short, Latino, potentially drugged out, horny, and with a staring problem. He made everyone uncomfortable every time, most especially the two of us.
Now when I saw my buddy walk up to him (and in response see this little moron's nostrils flare as he stared back, not moving), I had a very instinctive gut reaction. Something deep inside me moved my body toward the altercation, saying "Don't leave him alone while this is happening." My buddy was angry, the customer was rude, and I stepped in to calmly grab the guy's shoulder, I authoritatively said, "C'mon buddy, let's walk to the front," at which point I could say to our security guard that this fella was no longer welcome back.
I felt sort of proud of myself: My instinct told me to protect my friend and take action, rather than to run or to let him handle it on his own. I also knew, deep down, that if this kid decided to take a punch at my friend, he would have had a much bigger problem: me.
Just a day later, after a group of us attended the RuPaul's Drag Race viewing at the Sun, another friend and I walked home together toward the 20th and Church corner of Dolores Park, a place we'd walk to often, as he would continue up Church to get to his place while I'd ride my bike down 20th to get to mine. We decided to sit on that corner bench and chat, with our arms around each other's backs, taking in the nighttime view of the city.
Minutes later, we heard the sound of glass breaking about 50 feet behind us, and turned around to see a hooded man marching toward us with a broken beer bottle.
"What the fuck are you looking at? HUH??"
I'm pretty sure we both mumbled something about how we were just leaving. The guy got close, and I grabbed my full backpack in one hand and my bike in the other. I was aware of the weapon, and of the hate in his speech and his body language.
"I'm a Nazi low rider, you hear me motherfucker? A NAZI. LOW RIDER. Put that in your fucking bible and go suck each other's dicks somewhere else."
My poor friend, an eternal optimist and lover of life and people, had a clear reaction that I can't quite describe. After trying to do the whole "Sir, please calm down" bit, which clearly didn't work, he just focused on what was in front of him and kept walking. It was survival mode of a particular kind. We took cues from each other and were both glad to keep walking down 20th toward my place, especially together, as we heard this man mention how he kills faggots like us with his voice trailing further and further behind us.
"Let's just keep walking to my place," I said to my friend.
The voice got a little closer. "What the fuck did you say to me? What the FUCK DID YOU JUST SAY??"
I felt mostly annoyed at that point. My eyes rolled, which to me was a good sign that I was safe at this point and this guy was content to scare us as we quietly walked away from the park. I walked, decidedly with my back upright and with a swagger, holding my stuff tight to my body. I wished I didn't have the stuff, to feel a little more ready in case of attack, but I also knew I wouldn't let any of it go.
"Why didn't you drop your stuff and run?" my friend asked me.
To be honest, that didn't even cross my mind. Last year, I had not one but two bikes stolen, and when a dear friend gifted this one to me, I decided that I would never let anything happen to it, not ever. My instinct told me, instead, to be aware of the distance between me and that piece of glass, and act accordingly. I would wait to hear him come closer before I either dropped the bike and the bag and ran or attempted some kind of dangerous coup, and dodge the bottle before kicking his face or breaking his neck. Who knows. Once we realized he was gone, we called the SFPD who put us in touch with Castro patrol. We reported everything that happened.
I thought of how my instinct, in this case, also told me not to run and feed this violent heart with fear, knowing that would probably make it worse. I thought, also, how this instinct was all I had, because unlike the issue at the Midnight Sun, I couldn't see this guy behind me. I only had the sound of his voice to help me gage his distance, after staring at that piece of glass those fuzzy first few seconds.  I thought of the movie I mentioned above, in which a man's survival instinct made him and his family question his intentions as a husband and father in the face of pure danger.
I thought of Feather Lynn, the sweet faerie boy who was accosted and fatally attacked last year in Duboce Park. I hoped to God and everything holy that in his last moments he wasn't feeling heartpounding fear. I thought about how as awful as that sounds, it was more than likely. I thought about how maybe Feather was our guardian angel in that moment.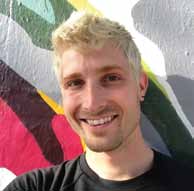 I posted a Facebook blast to remind people to be safe out there, and that this man was in this particular area. A friend sent me a website the next day, for an organization called Castro Cares, which apparently will be having a fundraiser tomorrow at Vanguard Properties on Castro Street, to help fund more of a police presence in the Castro as well as outreach programs for the homeless. I was glad to know there are efforts in place to make our neighborhood safer.
I also decided never to walk that hour of the night, anywhere in San Francisco, ever again. If walking at night isn't scary, it's damn boring. The bike is my safest bet, and I'm sticking to it.
We made it to my house and I made tea. Shaken up and disappointed, we reminded ourselves and each other to be grateful that this didn't end any worse. Now we know, this kind of thing still happens, even in the very near outskirts of the Castro bubble we feel so comfortable in. Now we know, we can still be the hopeful little lovebugs in San Francisco that we are, but evil is out there, and when it's staring you in the face, your instinct may or may not fail you. Now we know how lucky we are. Now we know to pay attention.  To really be careful.
And if you're able, please donate to Castro Cares.  We shouldn't have to feel unsafe at the gay ground zero of San Francisco, whether because of unruly bar patrons or because of the archaic hate monster that still exists. Take care of yourselves and each other. Be. Careful.  http://www.castrocares.org
Comments
comments
Tags:
Castro
,
castro cares
,
danger
,
homophobia
,
instinct
,
neighborhood
,
police
,
safety
,
street violence
,
survival
,
survival instinct